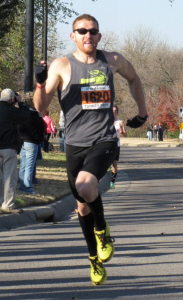 Hometown: Peabody, KS
High School: Hillsboro High
College: Fort Hays- cross country and track 2004-2009
Current Employment: Full time coach at Bethany college in Lindsborg, KS. I oversee the cross country team and distance runners in track. I also work the Jim Ryun running camps in the summer time in Gettysburg, PE and Greely, CO. I have a small lawn mowing business that I own and operate. Lastly, I do personal training on the side for some clients a few times a week in the morning.
Goals: My ultimate goals are to get my mile time under 4 minutes on the road and track in order to qualify for the Olympic trials in 2016. Intermediate goals would include running under 3:50 for the 1500, running 50 flat for the quarter and running and qualifying for the US Championship indoors. I would also like to compete for a National title in the 1500 next summer at the outdoor Club Championships. I know these are lofty goals but I believe they are all attainable if I stay healthy and consistent with my training.
PRs:
800- 1:54 (Hays Open) – 2012
Indoor 1000- 2:28 (ISU Open) – 2013
1500- 3:55.98 (2012 Portland Track Festival)
Mile-4:11
Road Mile- 4:04 (Wheeling, WV) – 2010
5k- 15:05 (Kt woodman Wichita, KS) – 2009
10k- 32:00 (MIAA conference championships)
Half Marathon- 1:10:18 (Hays Stride Half Marathon Hays,Ks) – 2009
Marathon- 2:34:00 (Bob Ardrey Marathon Salina, KS) – 2011