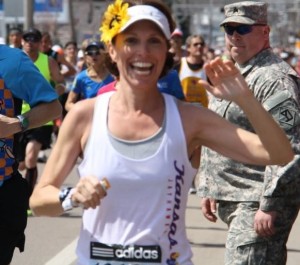 DOB: November 4, 1967
Hometown: Oskaloosa, KS

Current Residence: Overland Park, KS

Occupation:  Director of Congregational Care
High School: Oskaloosa High School

College: Baker University / MidAmerica Nazarene University
Masters Personal Bests:

Marathon – 3:50:54 – 2014 Grandma's Marathon
½ Marathon – 1:44:00 – 2013  Hospital Hill
10K – 46:51 – 2011 Plaza 10K
4 mi – 29:18 – 2011 Trolley Run
5K – 23:33 – 2011 Rescue Run (Oskaloosa, KS)
Bio/Current Running Goals/Emphasis:

I ran in Junior High, High School and College.  I started competing again about five years ago.  My latest goal has been to figure out how to run a successful marathon.  After four, I think I finally figured it out!  Now, I would like to improve my times in the 5K and 10K. 
That's one of the best things about running, there's always room for improvement!