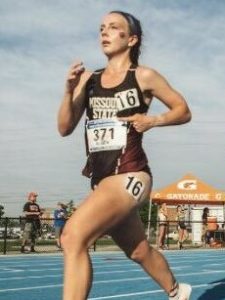 DOB:
June 18, 1995
High School:
Kearney (MO) High School
College: Missouri State University
Resides: Kansas City, KS
PR's
1500m outdoor: 4:36.11 (Tom Botts Invitational 2018)
3000m outdoor: 9:41.32 (John Mcdonnell Invitational 2018)
3,0000m indoor: 9:49.9 (Frank Sevigne Husker Invite 2018)
5,000m outdoor: 16:38.55 (Drake Relays 2018)
5,000m indoor: 16:59.64 (Pittsburg State Invitaitonal 2018)
10,000m outdoor: 36:14.14 (MVC Outdoor Championships 2018)
5K XC: 17:06.7 (Missouri Southern Stampede 2017)
6K XC: 20:47.8 (NCAA Division 1 Midwest Regional 2017)
Half Marathon: 1:15:17 (Good Life Halfsy 2019)
Jessi is a KC metro native, having competed for Kearney in cross country and track throughout high school. She spent her college career at Missouri State University, where she pursued a biology degree alongside competing in cross country and track for the university. She is now a first-year medical student at the University of Kansas School of Medicine. Jessi hopes to move up to the half-marathon and marathon distances as a post-collegiate.