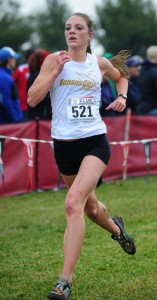 Home Town: Pella, Iowa
College: Northwest Missouri State University
Date of Birth: March 5, 1989 
Personal Records:
Track
5,000m indoor – 17:15.10
3,000m indoor – 9:54
Mile – 5:10
1,500m – 4:42
5,000m – 16:44 
10,000m – 35:35 
Cross Country
6,000m – 22:07.92
5,000m – 18:00.60 
Kayl, currently living in Lawrence, KS, is a registered dietitian working in the sports nutrition department of the University of Kansas.  She is also currently working towards a master's degree in exercise physiology through KU. 
Her short-term running goals include running a 16:30 5,000m and tackling the 10,000m distance for the first time. Long-term, she would like to achieve an Olympic 'B' Standard in the 5,000m.
She is coached by Scott Lorek of NW Missouri State.