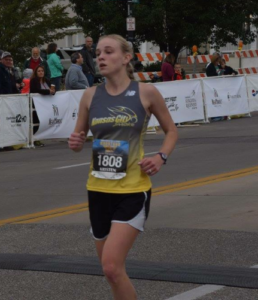 D.O.B: October 27, 1993
Hometown: Springfield, IL
Current Resident: Kansas City, MO
Education: Hannibal LaGrange University, B.S. Exercise Science
Kristen competed throughout high school and four years of competing in college for Hannibal LaGrange University cross country, indoor track, and outdoor track. She was a 9 time NAIA All-American and one time 5,000 meter indoor champion. She currently works for the NAIA eligibility center in downtown Kansas City. Her goals include running a half marathon and breaking her previous personal records. Outside of running, she enjoys spending time with family, baking, and reading.
Personal Bests
10k (outdoor)- 35:42 Washington University (March 2016)
5k (outdoor)- 17:17 Kansas Relays (April 2016)
3k (indoor)-10:08 (December 2015)
Mile- 5:06 Illinois College (January 2016)
4k (XC)- 14:24 WIU Opener (August 2015)
6k (XC)- 21:17 Rhodes College 2015
Half Marathon – 1:23:12 Prairie Fire HM (October 2016)