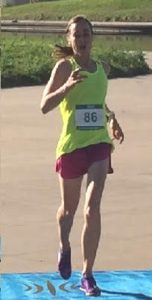 DOB: November, 27 1980
Hometown: Marion, IA
Current Residence: Overland Park, KS
Education: University of Iowa (B.S.E Biomedical Engineering and Minor in Business 2005)
Career: Patent Analyst, Cerner
Biography:
Nicole played basketball, soccer, softball, and volleyball in high school, but only one year of cross-country and track.  She ran to stay fit during college and revived her love of self-competition after graduating and moving to Kansas City.  After realizing she had potential, she decided to push for PR's.  Now realizing her regular way of training isn't getting her fully where she wants to be she wants to try something new and do some speed work.  She is excited to find a group of women who love running as much as her that will push her!  She wants to see how low she can get her PR's and ideally qualify for Kona Ironman in the near future.  She loves showing her two daughters that if you work for something hard enough you can achieve your goals!  She would also like to break into some more ultra-running.
Personal Records:
1Mile: 5:35.38 (2015 KCCC) (Goal 5:20)
5k: 19:04 (2016 Natalie 5k) (Goal 18:30)
10k: 39:30 (2017 Groundhog)
Half Marathon: 1:28:28 (2015 KCCC)
Full Marathon: 3:27:44 (2015 KC Marathon) (Goal as close to 3 as possible)
Half Iron Man: 5:20:02 (2012 Pigman) (Goal Sub 5hr)
Full Iron Man: 11:26:50 (2016 Chattanooga) (Goal 10:45:00)
50k: 5:33:48 (2017 Psycho Wyco)