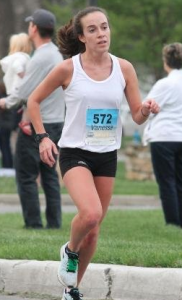 DOB: April 10, 1992
Hometown: Park Ridge, IL
Current Residence: Kansas City, Missouri
Education: University of Tampa, B.S. Advertising (2014)
Vanessa competed for Loyola University New Orleans and the University of Tampa for a collective 8 seasons of cross country and outdoor track. She is currently a copywriter at Garmin. Vanessa's goals are to continue breaking her personal records in all distances, conquer the illusive marathon distance and encourage people of all levels to pick up the beautiful, love/hate sport of distance running.
Personal Records:
1500-4:53 (2014) – University of Tampa Distance Classic
1 mile-5:18-(2015) KC Corporate Challenge
3k-10:06 (2014) – University of Florida Tom Jones Meet
5k- 17:39 (2014) – University of Florida Pepsi Relays
5k Road Race- 17:49 (2015) – Orange Rush 5k
4 mile- 23:34 (2015) – Trolley Run
Half-marathon- 1:25:28.3 (2016)- Rock the Parkway