Plaza 10K
We had quite a number of athletes compete in Sunday's Plaza 10K, 11 to be exact. And Smoke came out to fly. We had multiple PR's along the way, with some great finishes for such a large race.
In order of finish time:
Will Graham - 5th OA, 3rd AG, 31:59 (5:09 pace)
Kaitlyn Shea - 2nd OA Female, 1st AG, only finishing behind Olympian Jenny Simpson. 34:59 (5:38 pace)
Eddie Grier - 3rd AG, 35:26 (5:42 pace)
Eric Fry - 2nd AG, 35:32 (5:43 pace)
Chris Brown - 3rd AG, 35:41 (5:45 pace), a day after running a half marathon and a 5K in the heat!
Drake Vidrine - 1st AG, 36:05 (5:48 pace)
Matt Schmidt- 5th AG, 36:26 (5:52 pace)
Mike Thomson - 6th AG, 36:51 (5:56 pace)
Leah Smith - 10th OA Female, 2nd AG, 40:32 (6:31 pace). After running a 5K the day before.
Morgan Bartels - 12th OA Female, 5th AG, 40:59 (6:36 pace)
Shelly Ambrose - 4th AG, 47:29 (7:39 pace)
Great showing Smoke! Times were 🔥
...

See More

See Less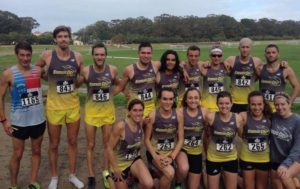 ---
USA Club Nationals Cross Country 2015
Want to see more racing news? Go to our Facebook Page!