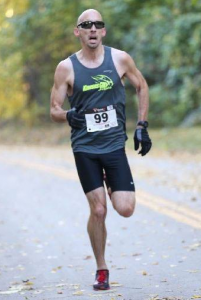 DOB – August 1, 1975 
High School – Russell (KS) High School, 1993 
College – University of Notre Dame, 1997 
Residence – Overland Park, KS 
Occupation – Small Business Owner – Online Marketing 
Personal Bests
400 meter – 52.0 (2011)
800 meter indoor – 1:56.63 (2012 Iowa State Last Chance) 
800 meter outdoor – 1:54.92 (2011 USATF National Club T&F Championships) 
1500 meter – 3:55.29 (2015 USATF National Club T&F Championships)
Indoor mile – 4:15.04 (2016 PSU Gorilla Classic)
Outdoor mile – 4:21.320 (2016 Kansas City Corporate Challenge)
Road mile – 4:20.20 (2014 Poyntz Ave. Mile)
3000 meter – 8:47.90 (2014 KU Jayhawk Classic) 
5k road- 15:28 (2013 Leawood Labor Day Run) 
4 mile – 20:05 (2014 Trolley Run) 
8k road – 25:31 (2015 Cliff Hanger) 
10,000m – 32:13 (2015 Kansas Relays)
10k road – 31:57 (2015 Plaza 10k) 
Half marathon – 1:12:25 (2015 Prairie Fire Half Marathon) 
Marathon – 2:51:33 (2010 NYC Marathon) 
Achievements
2011 WMA M35 
1500m
 World Champion
2016 USA Masters Indoor M40 3000m, 1500m and 800m National Champion
2014 USA Masters Indoor M35 Mile and 800m National Champion
2013 USA Masters Outdoor M35 1500m and 800m National Champion
2013 USA Masters Indoor M35 Mile and 800m National Champion
2012 USA Masters Outdoor M35 1500m and 800m National Champion
2012 USA Masters Indoor M35
Mile
and
800m
National Champion
Randy ran track and cross country during high school, but did not begin running competitively again until his early-mid 30's. He and his wife Mary started running marathons together in 2005 as a way to stay healthy.
He made his way back to the track in early 2011 and began competing for the Smoke in both Open and Masters middle distance events. In the summer of 2011 he became the 1500m M35 World Champion and has since won numerous M35 National Championships in the 800m, 1500m and the Mile.
Randy is the current Executive Director of the Kansas City Smoke and is also a volunteer CYO cross country head coach for his family's parish, Church of the Ascension.