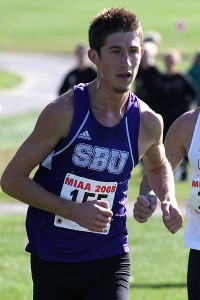 Born: December 3, 1987
Current Residence: Gladstone, MO
College: Southwest Baptist University
High School: Liberty HS
PR's:
400m: 50.2
600m: 1:18.67   5/2009   SBU Time Trial
800m: 1:51.56  5/2009   John McDonnell Inv
Mile: 4:15.4  1/2012    UCM Inv
3200m: 
9:11
   11/2007   SBU Time Trial
5k: 
15:11
  3/2012   Baker Inv
10k: 31:29  9/2010  Chili Pepper Inv
Half Marathon:
1:10:56
KC Half  10/2011
Marathon:
2:33:36
  KC Marathon  10/2013
I have been training competitively since my junior year in High school where I ran for Liberty HS.  I was on the 2005 State Championship team and that was what really inspired me to pursue a competitive running career.  I competed at Southwest Baptist University where I became a 2 time All American (800 m, DMR).  I didn't want to end my running career in college so I continued to train post-collegiate and actually set several new PR's training alone.  Now, as a devoted husband and father, the desire to pursue my fullest potential in distance running still burns bright!  My hope in joining the Smoke I will be acquitted to race like never before!