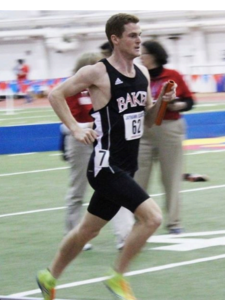 Born:
June 3, 1995
Residence: Lenexa, KS
High School: St. Thomas Aquinas
College: Baker University
Personal Records:
10K: 33:52
Half Marathon: 71:51
8K (XC): 26:19
About:
I attended St. Thomas Aquinas high school and Baker University where I ran year round during my attendance at these schools. During my time at Baker I was a 3x national qualifier in the NAIA XC national championships, and a 2X national qualifier in the marathon for outdoor track and field. I majored in Exercise Science, and not completely sure what I'd like to do with that yet. I drink copious amounts of coffee
Goals:
I'd like to keep running and run a couple marathons. I also want to train for road 5K/10K races. I ran one marathon at the NAIA national championships and I focus in longer distance races. The half marathon is one of my favorite races to run. I have too much passion for this sport to not continue.