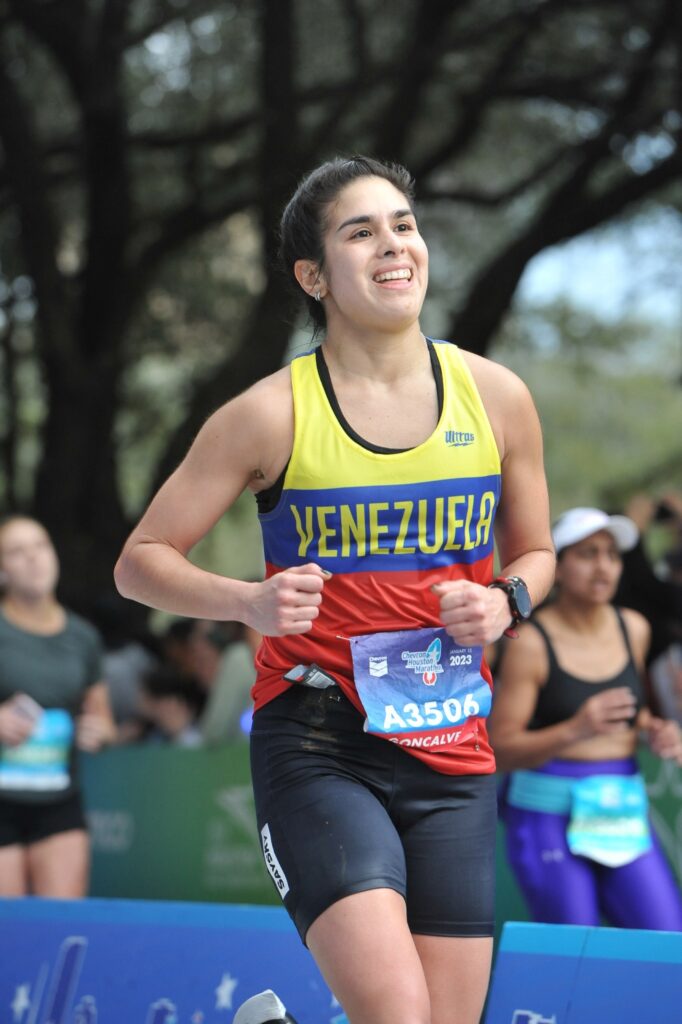 Born: January 28, 1993
Hometown: Venezuela
Residence: Olathe, KS
High School: Colegio San Jose de Guatire, VE (High School 2010)
College: My Hamilton University, Caracas, VE (Associate degree, Occupational Therapy 2015) Barton Community College. Great Bend, KS (2016-2018) Fort Hays State University (Bachelor in Health and Human Performance, 2020) Fort Hays State University (Master's expected graduation in May 2023.)
Career: Personal Trainer
Personal Bests:
Mile: 5:02 (2019) Pittsburg, KS
3k – 9:58 (2019) Lincoln, NE
5k – 16:52 (2015) Walnut, CA
10k – 35:15 (2015) Walnut, CA
Half Marathon – 1:21 (2015) Trinidad&Tobago
Marathon – 2:55 (2023) Houston, TX
Bio:
I was born and raised in Venezuela. Before becoming a runner, I started swimming at a youth age. When I was 12 years old, during that time my mother was a voluntary coach at my high school. I picked up the passion of running from my parents. Seeing them run on a daily basis impacted my life so much that it brought me a lot of great opportunities from meeting the running community, awesome friends, excellent coaches, and also opened a huge door for me that was becoming a student-athlete in the US.
Moving away from home may be exciting, but scary at the same time because you have to start in a new place where English was the hardest barrier, with different foods, culture, and people. I was 23 years old (kinda old) but it helped me discover a brave and mature self and embrace difficult circumstances. I found a diverse community in Great Bend and Hays that supported my student and athlete career. "Don't give up" was my motto; "I Know, I Can" was my mantra. It helped me push myself during this stage of my life.
Post bachelor's degree, I began to pursue my master's at Fort Hays for a semester on campus but then I decided to go finish it online and start an adult life in Olathe, KS. Another hard stage, since I am not a US citizen. I'm still working on it. I stopped running as a student-athlete to reset physically and mentally and continue my running journey.
I always wanted to become a marathoner like my parents. It's been almost seven years without seeing them and running is my love language with them. I started training to debut at Chevron Houston Marathon in the fall of 2022. It was a blessed experience that made me realize the "walls" can be broken and I was doing that since a long time ago. I enjoy every minute and the community around. No words can explain it better. My goal is to continue to inspire people and keep having fun with running "some miles."