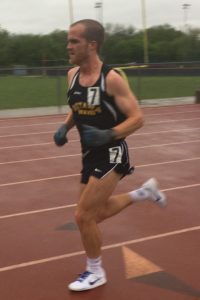 DOB: 2/8/93
Current occupation: Graduate Assistant XC/TF Coach at Ottawa University
Hometown: Fanwood, NJ
Current town: Ottawa, KS
High school: Scotch Plains-Fanwood HS
College: Ramapo College (doing my master's at Ottawa University)
I ran 4 years of cross country and 3 years of track at Ramapo College in NJ. After graduation, I coached for a year at Weehawken HS in NJ. I also joined the Garden State Track Club. In August 2016, I moved out here to Kansas to take a graduate assistant position at Ottawa University, where I currently coach the distance runners. I had that year of eligibility left, so I just used it this Spring. It definitely lit the fire again – I struggled at times after graduating, but this season made me realize that I still want to get after some fast times. I'll probably chase some 5k and 10k times in the next year, just as a pride thing, but I know my strength is going to be the longer stuff. Eventually I'll transition to being a marathoner.