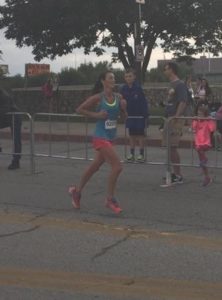 DOB:
  July 7, 1985
Residence: Overland, Park KS
Education:  University of Central Missouri State, Bachelor's Degree Elementary Education emphasis in K-12 Special Education
(I'll be finished with my associates degree to be a PTA from MWSU in May:)!!
Personal Bests
College-
800-2:24
1600-5:06
5k-19:06
Road Races-
5K-18:37
10K-43:32
1/2 marathon-1:30:29
I started running in  high school, and continued through college.  I ran at UCM and loved it.  I taught second, third, and special ed. for eight years.  I'm just finishing up an associates degree to become a physical therapy assistant.  I would love to break
1:30
in the half, and to run a great marathon time.