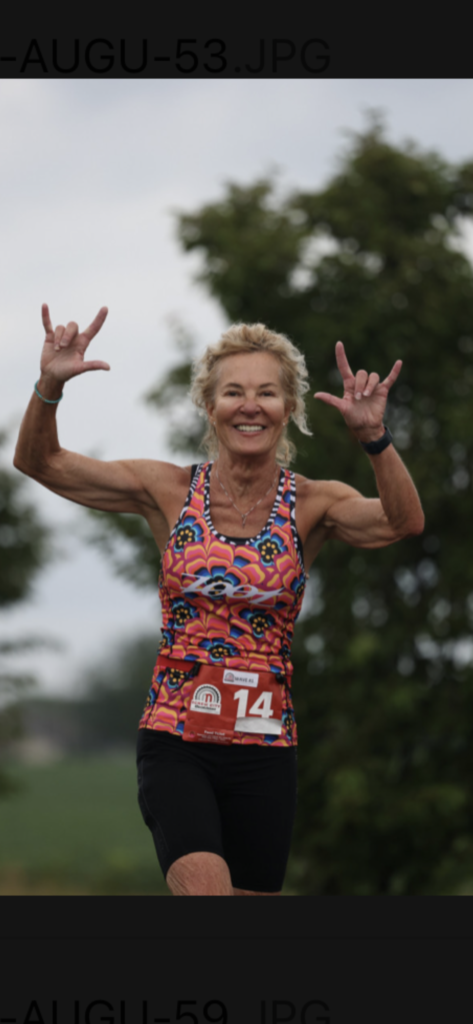 DOB: September 13, 1956
College: Kansas University
Occupation: Retired from Children's Mercy Hospital/Neonatal RN /USAR RN
Residence: Lenexa, KS
Married: to Ron Byron
Masters PR
KCCC- 400 meter 1:29 6/7/22 (broke current record of 1:38)
5k- 25:45 10/9/21
10k- 54:33 9/26/21
13.1- 2:03:46 4/2/22
BIO
I was a recreational runner in HS, and in my 20's, started to be a little competitive in my 30's,
40's, 50's and 60's. I have endured some running injuries but have been able to overcome and
continue to run. The good thing about getting older is my placements started getting
better…….more first place age group awards. I met my husband at the Heart and Soul 5k, 2015.
I married Ron in 2016 and we do ours runs together now! Destination runs are our thing right
now. Ron and I competed in the Bermuda Triangle Challenge in 2019. We also participate in
Triathlons and Duathlons. Having the best time of our lives!
Goals
Keep pushing my limits and training to see what I can accomplish with healthy and injury free
running. I look forward to meeting new athletes and representing Kansas City Smoke.