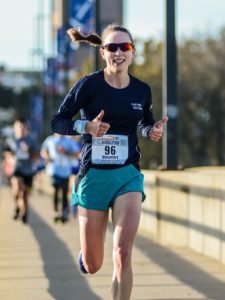 Bio: Alexandra Bojarski-Stauffer
DOB: February 8, 1989
Hometown: Kansas City, MO
Current Residence: Kansas City, MO
Education: Tulane University, Masters of Architecture I (2012)
Career: Architectural Designer II, Populous
Alexandra ran Track and Cross Country for St. Teresa's Academy in High-School but was only a so-so runner. She didn't know very much about form, or nutrition and didn't run consistently between seasons (her coach actually video-taped her and showed the whole team how inefficient she was!). Studying Architecture in college meant lots of all-nighters, waffles at 3am and little running. She returned to Kansas City to start her dream career specializing in Sports Architecture and ran her first Half-Marathon at Rock the Parkway in 2016. A few months later she was stunned to win the Hospital Hill Half-Marathon in women overall. She jokes, "the real runners didn't show up that day…" Since then she has become a real run junkie and is ecstatic to run with anyone who wants a running partner at any pace or age!
Personal Records:
1 Mile – 5:35 (2006) Bishop Miege High-School Meet
5K – 20:15 (2015) Waddell & Reed
4 Mile – 25:56 (2018) Trolley Run
10K – 42:51 (2017) Plaza 10k
Half-Marathon: 1:30:31 (2016) Rock the Parkway
Goals:
To remain injury free as she attempts to break all of the above PR's and eventually run her first Marathon! (Boston is her dream). She believes that movement is life, and she wants to help as many people as possible strap on a pair of shoes and get outside! She is a part of the Run me to Free Foundation, with the goal to build running trails and tracks across the Nation. She especially loves to race and is very excited to help support the running community here in Kansas City!