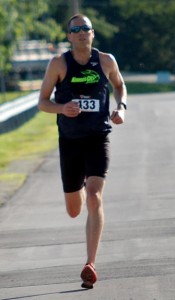 Name: Jeremy Garrett
Born: April 9, 1977
Residence: Kansas City, MO
College: B.A., University of Central Missouri, 2000; M.A., Texas A&M University, 2002;  Ph.D., Rice University, 2008
Career: Researcher, Children's Mercy Bioethics Center, Children's Mercy Hospital, Kansas City, MO; Assistant Professor of Pediatrics and Adjunct Assistant Professor of Philosophy, University of Missouri-Kansas City
Personal Bio: I ran middle distance events for two years at Odessa High School (MO) before transferring to a small private school and focusing on basketball as a junior and senior.  After nearly 20 years of relative inactivity, I rediscovered my love for running and racing while trying to regain basic fitness to compete in various events at the KC Corporate Challenge.  Since then, I've raced in a number of venues (road, track, trails, and cross-country) and at a variety of distances (ranging from 400 meters to the marathon) and have enjoyed the differing challenges that each venue and distance presents.  My focus for 2014 will be on shorter track events this summer (with the goal of setting lifetime PRs at 800 meters, 1500 meters/mile, 3000 meters, and 5000 meters) before working back out in distance for PR efforts at 8K, 10K, and the half-marathon in the fall.
High School PRs & Achievements (run as a Sophomore)
400 meters (split)                 :54
800 meters                          2:03
1600 meters                        4:31
–  Conference Champion, 800 meters, Missouri River Valley Conference, 1993
–  Missouri 3A State Meet Qualifier, 1600 meters, 1993
PRs since returning to running in 2011
800 meters                          2:07 (USA Masters Outdoor T&F Champs, July 2013)
Mile                                      4:43 (Kansas City Corporate Challenge Track Meet, June 2013)
5K (Road)                          16:04 (Leawood Labor Day 5K, September 2013)
8K (Road)                          27:44 (Cliff Hanger 8K, November 2012)
  8k (Split)                        26:39 (Plaza 10k, September 2013)
10K                                    33:30 (Plaza 10K, September 2013)
Half-Marathon               1:18:42.9 (Rock the Parkway, April 2016)
Marathon (Debut)           2:49:44 (Austin Marathon, February 2013)