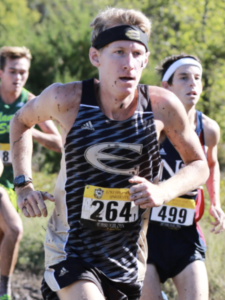 DOB: 8/24/1995
Hometown: Overland Park, KS
High School: Olathe East
College: Emporia State University
Residence: Overland Park, KS
PR's
8K XC: 25:07
10K XC: 32:09
Mile: 4:24
3K: 8:36 (unconverted)
5K: 14:50
10K: 31:27
I started running after getting cut from the Soccer team in high school my freshman year. My first two years as a cross country jock were spent doing anything but running. Soon, all my friends quit and I decided to see what could happen if I actually tried. My senior year we broke our school's regional team record averaging 16:59 for the 5K and I also made the top 10 list of All-Time 5Ks in 16:41.
I continued my education at Ottawa University and then transferred to Emporia State University after freshman year. After getting dominated all sophomore year, I decided to up the mileage over summer and see where it would take me. I began finishing in the top 10 of races and found nationals more and more within reach. Unfortunately, right before MIAA conference, I developed a foot injury that lead to a disappointing conference and regionals.
The next year I trained the same but focused more on injury prevention and diet. This lead to me finishing 9th at MIAA conference and finally getting my name up there. The injury prevention allowed me to survive a good while but now I had a small knee injury. The trainers loaded me up with a knee brace that I wore all the way up to the shake loose jog at Regionals. As it was my last season ever competing in collegiate cross country, I decided to give it everything I had. I placed 11th overall and figured my career in cross country was done. During an exam the following Monday, I received a dozen phone calls and even more texts congratulating me on finally qualifying for nationals.