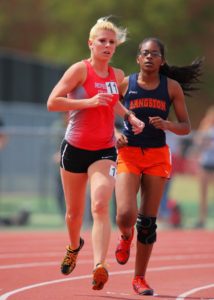 DOB: September 7, 1993 
Hometown: Russell, KS 
Current Residence: Lawrence, KS 
Education: McPherson College – BS (Sociology & Communication).
Current student at the University of Kansas School of Law.
I began my running career in the 7th grade and have been addicted ever since. I went on to be the lone female cross country runner at my high school, which led me to run for four years at McPherson College on the cross country, indoor, and outdoor track and field teams. After graduation from McPherson College I began my law school career at the University of Kansas School of Law. I am married to a farm boy from my hometown and plan to practice in that area after graduation. My dad has always been my number one fan, proving this so when he had my high school principal fly him to one of my track meets.
Current running goals: 
Race my first marathon.
Break 20 minutes in the 5K
Improve my half-marathon time by 10 minutes.
Increase my weekly mileage.
Coach a high school cross country team.
Track/Cross Personal Bests 
800: 3:01
1000: 3:41
1500/mile: 5:33/6:02
3K: 11:37
5K: 20:13 
10K: 42:30
Half-Marathon: 1:43:42