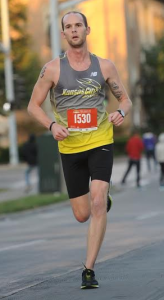 DOB – July 25, 1986
High School – Petersburg PORTA high school (Petersburg, IL)
Post High School- United States Navy
Residence – Olathe, KS 
Occupation – Assistant manager-Garry Gribbles ward parkway
Personal Bests
400 meter – 51.7 (2004)
800 meter outdoor – 1:57.11 (2016 USATF Club Nationals)
1500 meter outdoor – 4:05.54 (2016)
Outdoor mile – 4:26.00 (2016 KCCC)
5k road- 15:58 (2017 Parkville Turkey Trot)
4 mile – 20:05 (2018 Trolley Run)
10k road – 33:36 (2017 Plaza 10k)
Half marathon – 1:19:24 (2015 Gobbler Grind)
Marathon – 2:48:48 (2016 Chicago Marathon)
Ran track and cross country in high school in Petersburg, IL.  After graduating in 2004 I enlisted in the US Navy where I served a total of 8 years. During my time I worked in special operations as a Naval Aircrewman.  Doing this I completely fell off the radar in terms of competitive racing and speed in general.
I moved to the Kansas City area in July of 2014 where slowly but surely I am getting my speed that I once possessed in high school back and racing competitively again.
As you can see I don't have nearly the times as some of the other athletes YET! But it will come.  I am just getting started so stay tuned!