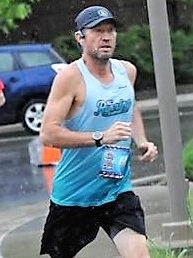 DOB:
May 5th 1962
Residence: Overland Park, KS
High School: Lincoln Northeast, Lincoln Ne.
College: 1 year Hastings College, 1 year University of Nebraska
Career: Former Infantry in Desert Storm. Currently a Union Carpenter
Family: Single 3 children 5 grandchildren 
Masters Pr's
10k – 41:03 (2018)
13.1 – 1:33.04 (2018)
26.2 – 3:09.07 (2018)
I ran in college in 1980-1981. I ran a marathon at 20 in 2:42.40 qualifying for Boston, but not running it. I then raised a family and took 35 years off from running. In April of 2016 I had ballooned up to 225lbs and decided to run 1 mile. 13 months later I qualified for Boston Marathon and ran/swam it this year. My goals this year are to break 20 in the 5k, 40 in the 10k, and 
1:30
 in the 1/2 marathon. I re-qualified for Boston and qualified for New York at Grandma's Marathon. Long term I would like to get under 3 hours in the marathon. I would love to get on the track and cross country fields again in the future.