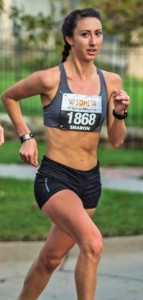 Hometown: Olpe, KS
College: Wichita State University
Date of Birth: October 5, 1989
Personal Records
1500 – 4:52
Mile – 5:18
3k – 10:28
5k – 17:55
10k – 36:35
Half Marathon – 1:23:53
Marathon – 3:02:37
2015 Season Bests
Monument Avenue 10k-Richmond, VA (3/28/15) – 36:36  
Prairie Fire Half Marathon-Wichita, KS (10/11/15) – 1:24:09
Sharon, currently living in Great Bend, KS is a Forensic Scientist working for the Kansas Bureau of Investigation.  She earned her Master's in Forensic Science from Virginia Commonwealth University. 
Her short-term running goals include running a sub 17:30 5k on the track, a sub 36:00 10k on the track, and a sub 1:20 half marathon. Long-term, she would like to run an Olympic trials qualifier in the marathon.
She is coached by Joe Eby of Baldwin Wallace University.