Born: May 22, 1987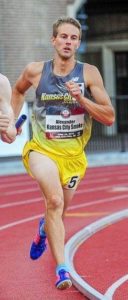 Residence: Kansas City, MO
Career: Chemical Engineer at Bayer CropScience
Married: Jessica Alexander (Warren)
High School: Center Point-Urbana (Iowa)
College: Iowa State University
Personal Records
400m (split): 49.4
800m: 1:51.16
1000m: 2:29.27
1500m: 3:53.94
5K (road): 16:35
8K (road): 27:34
Marathon: 2:56:56 
Accomplishments
9th place twice at Big 12 Indoors (2008 and 2009)
4th Place Distance Medley at 2008 Big 12 Indoors
5th Place Distance Medley at 2009 Big 12 Indoors
5th Place 4×800 at 2008 Drake Relays
I was a multi-sport athlete in high school, but my main focus became running when I was a sophomore in high school. I walked on at Iowa State, where it took me some time to earn a roster spot. After a respectable college career, I have continued to run and love the competition that comes with it.
I am a born again Christian, and my favorite Bible verse is 1 Corinthians 9:24 which says, "Don't you realize that in a race everyone runs, but only one person gets the prize? So run to win!" This verse has always motivated me in all areas of my life.
During every race I run, there is always extra motivation in my mind: to make my Dad proud—he passed away before I ran in an Iowa State uniform. I never knew until late in his sickness just how proud he was of his kids, so every race means that much more.
I am married to my high school sweetheart and former track manager, who has spent many weekends watching me race and taken many pictures. She is my best friend and biggest fan.
My greatest strengths are in the shorter distances, but I am looking forward to seeing what I can do at slightly longer distances, especially the 5K. Whether it is on the track, road, or a cross country course, I love to race!