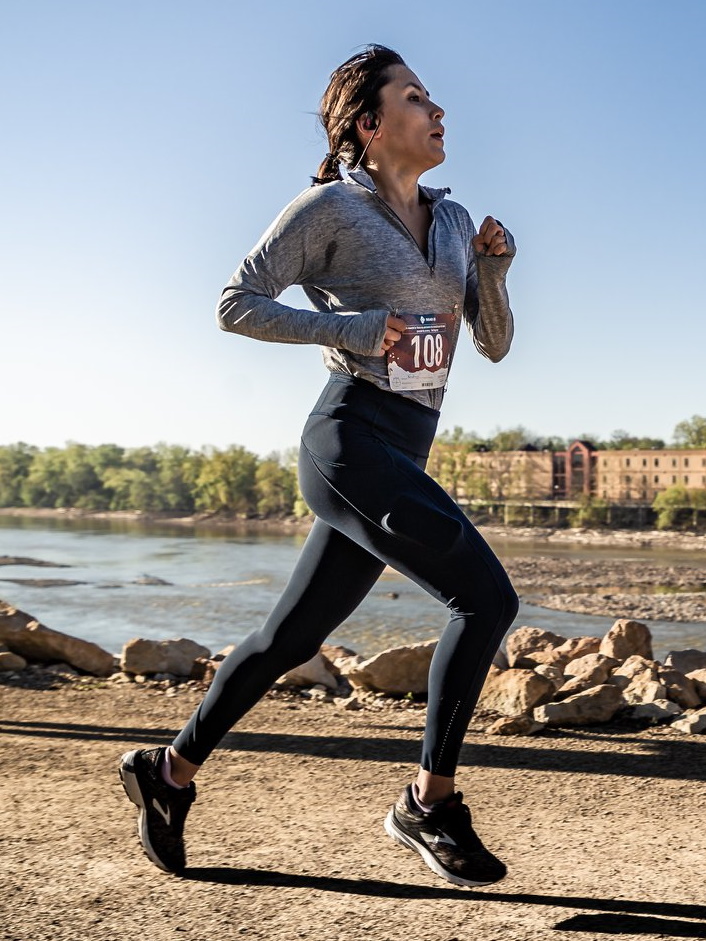 DOB: 2/20/1992
Hometown and Current Residence: Lawrence, KS
Education: University of Kansas-BA(Spanish Language and Literature) and BS (Supply Chain Management)
I am a 27 year old PhD student studying human resources and organizational behavior at the KU School of Business. I am also a Lawrence native, where I currently live with my husband, dog, and 3 cats.
I only started running about 3 years ago, but once I started, I quickly fell in love with the sport. Over the last couple years, I have become more competitive and have participated in several races in the Lawrence and surrounding area. My favorite race distance is a half-marathon. I also recently completed a one-year running streak on December 1, 2019, during which I ran over 2000 miles (average of 40 miles/week). I am still continuing on the streak and hope to reach year two this December. 
Best race performances: 
one mile: 3/17/19, Ad Astra Irish mile in Lawrence, KS. time: 6:04 (won 3rd OA female). My PR on a timed mile at our local track in November 2019 was 5:47. I plan on participating again in March with a goal of beating the 6:00 mark.
5k: 4/27/10, Noah's Crown Town 5k in Overland Park, KS. time: 20:16 (won 1st place OA female). 
half-marathon: 11/3/19, Kansas Half Marathon in Lawrence, KS. time: 1:35:11 (2nd place OA female). 
I have yet to compete in a chip timed 10k, but my PR in unchipped trail 10ks (Billy Mills 10k and Garry Gribbles Freedom Run 10K is a little over 45 mins). I look forward to competing in a chipped road race 10k early this year.
Current running goals:
break a 20 min 5k, break a 6 min mile, run my first 10k, get closer to 1:30 on my half marathon.