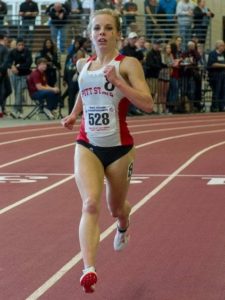 Born:
 Nov 10th, 1994 
Residence:
 Overland Park, KS
Career:
 Elementary Music Teacher, Madison Elementary  in Gardner
High School:
 St. Thomas Aquinas
College:
 Pittsburg State University  
Personal Records:
5000 Meters (XC)- 18:00.4 Missouri Southern Stampede (2017)
6000 Meters (XC)- 21:59.4 Kearney NE Central Regional Championships (2017)
3000 Meters indoor- 10:06.82 MIAA Indoor Championships (2018)
5000 Meters outdoor- 17:15.66 Washington State University St. Louis (2018)
10000 Meters- 36:52.17 Mt. Sac Invitational (2018)
3000 Meters Steeple- 11:38.40 Missouri Southern (2018)
I ran cross country in high school sophomore- senior year and track all four years.  At Pittsburg State, I walked on the track team my sophomore year and joined cross country my junior year.
My goals include running my first marathon (with a Boston qualifying time), continuing to train at a high level, and enjoying this sport longer (which includes competition).