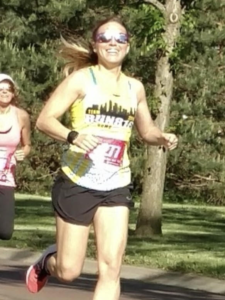 Born:
September 16, 1992
Hometown: Gering, NE
Residence: Kansas City, MO
Career: Kansas City Teacher Residency: Instructional Coach
High School: Gering High School (Gering, NE)
College: Nebraska Wesleyan University (Lincoln, NE)
College:
400 (4×4): :59
800: 2:18
1500: 4:50
1 mile: 5:08
3k: 10:53
5k: 18:59
6k: 23:05
Current 5k best:
19:38 (2018, Women Run the Cities 5k) 
I graduated from Nebraska Wesleyan University in 2015 where I ran cross country and track for four years. I mainly focused in middle distance during my track career. I hold a Business Administration major with a Spanish minor and a Masters degree in Middle School English. I joined Teach for America after college and spent my teaching commitment in Kansas City, where I took a hiatus from running for a couple of years. I have coached track and cross country while being a teacher. My current goals for running are to get fit, drop some PRs and fall in love with running again!