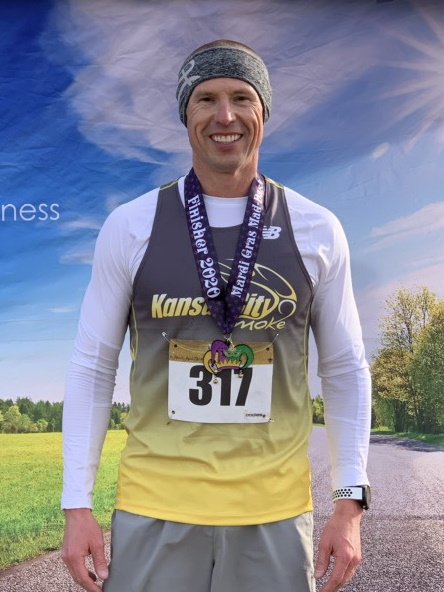 Birthdate: November 23, 1976
Hometown: Smithton, MO
Current Residence: Kansas City, MO
College: University of Central Missouri, Warrensburg, MO
Family: Married to my wife of 21 years, Angie Craig. We share a passion for running and enjoy supporting one another during training and racing. We have two amazing children who keep us extremely busy with sports.
Personal Bests:
5K – 18:16 (2020 Groundhog Run)
10K – 36:29:55 (2020 Sweetheart Shuffle)
Half Marathon – 1:21:45 (2019 Longview Half Marathon)
Bio:
I was a long time soccer player so I have always been accustomed to training for speed and endurance. I ran some in my youth and always had the most success with endurance events.
I started running as an adult to achieve my fitness and competitive goals. However, over the last 2 years, I have become much more competitive and continue to improve on my times across a multitude of distances.
I find the most enjoyment running and competing in the half marathon and 10K events. About a year ago, I started pacing many half marathon races across Kansas City to help other's achieve their running goals. I find pacing to be very rewarding, and it gives me a new respect and perspective on how running uniquely impacts the lives of others. Not to mention, I have met some of the most amazing people along the way.
I look forward to being part of the Kansas City Smoke team to continue to represent our great city in the running community and beyond. I have a passion for continuous improvement and the people and relationships that can be built through such a powerful and positive sport.