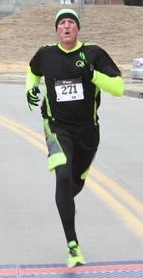 Born: January 23, 1962
Masters PR's:
50- 7.36
100- 13.37
200 – 29.24
400- 65.13
800- 2:35
1500-5:31.69
5K – 18.16
Graduated in 1980 from Raytown South and from University of Missouri -Columbia in 1984 with a double degree in Marketing and Management. I am now a Financial Planner and own a Horse Ranch that specializes in Thoroughbred race horses. Father of twin girls~ Natalie & Nicole…. So I better be able to run!
I have ran in over 50 5ks in 2014, Founder of 2 -5k/10k events – (Children's -Hear You Now 5k/10k and the Steps Against Alzheimer's 5K/10K.) Competed in 2 track meets and placed 3rd or higher in every event.
In my younger days, I was a basketball player. Never ran track in HS or College, only High Jumped one time in AAU and took 3rd in state at 5'8"as a 14 yr old. I started running in 5ks on a regular basis 2 years ago and have found that I can still be competitive, usually winning my age bracket and finishing close to the top overall… I even out right won 4 5ks in 2014. My first track meet was this year in Columbia Mo where I took 4 golds and 4 silvers… which has ignited the spark to really get after the track meets.
I am now in training for the National Senior Games to be held in St. Paul Minnesota July 6th-12th which I qualified in all 6 running track events in Topeka.
Other than running in the 5ks on the weekends I have done little to no training during the week for the last 8 months… so I know that my times will get better as I am focused on some key events. It is not that I am that fast…. I just have not slowed down as I have aged….