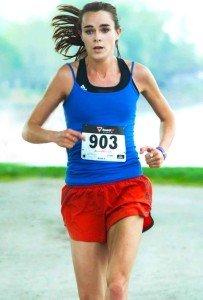 DOB: March 24, 1991
Hometown: Parkville, MO
Current Residence: Parkville, MO
Education: Park University B.S. Graphic Design/Marketing (2013)
Lindsey competed for Park University for 9 seasons of cross country, indoor track and outdoor track. She competed at 7 NAIA national championship and finished her career with a school record and all-american status in the marathon. She is currently a graphic designer at Skopos. Lindsey's plans are to continue tackling her lifelong goal of qualifying for the olympic marathon trials while taking down personal best in all other shorter races and contributing to the KC running community. 
Personal Records:
1500 – 4:53 (2012) Baker Relays
1 mile – 5:19 (2015) Pleasant Hill All-comers
3k – 10:26 (2016)  Jayhawk Classic 
5k – 17:45 (2012)  Parkville Turkey Trot
4 mile- 23:31 (2015)  Trolley Run
10k – 37:23 (2016) Plaza 10k
Half-marathon – 1:23:16.6 (2016) Rock the Parkway
Marathon – 2:59:51 (2015) Grandmas Marathon