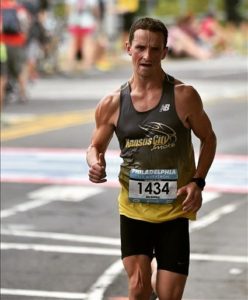 Born: July 25th, 1987
Hometown: Parkville, MO
Residence: Kansas City, MO
High School: Park Hill South High School, 2006
Career: Pro Athlete, Inc. Project Manager
Personal Bests
400M – 53.6 (2013)
800M – 2:04.38 (2014)
Mile – 4:37.65 (2016)
5K – 15:49 (2018)
5K Race Walk – 26:05 (2017)
8k – 26:22 (2018)
10k – 32:22 (2018)
15k – 50:46 (2017)
Half Marathon – 1:10:59 (2018)
Marathon – 2:31:52 (2018)
Personal bio
Jeramey began running in 2010 at the age of 23. He never ran in High School or went to College. He wrestled and played baseball all growing up, so running was always just a way to lose weight and stay in shape.
Since 2010, he's lost 30+ pounds and strives each day to get better. Running fits right in with his highly competitive nature.
Jeramey is never satisfied and very determined. His goal is to one day qualify and run in the Olympics.