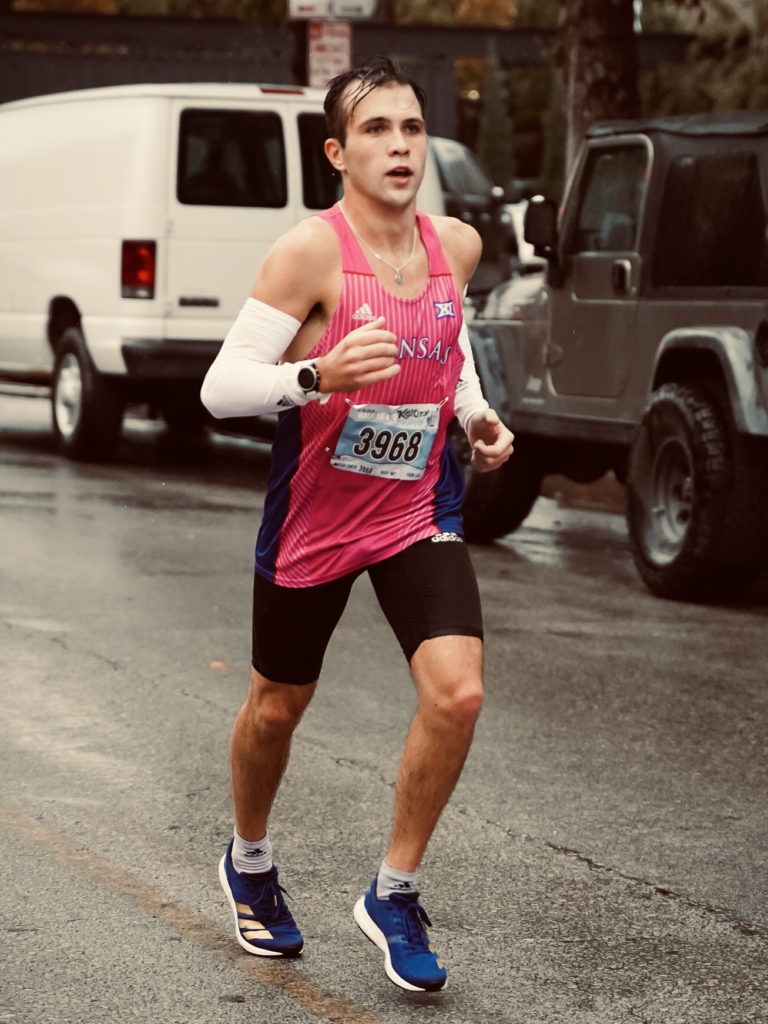 Home Town: Kansas City, KS
High School: The Barstow School
College: University of Kansas
Residence: Lawrence, KS
Personal Bests
Half- 1:17:53
10k: 35:55
5k: 17:22
Mile: 4:54
Bio
For the past three years I have had the fortunate opportunity to work as a student manager for the Kansas Men's Basketball program. Being a multi-sport athlete all my life I just needed to find something that kept me in shape outside of our daily practices and games, especially something that would get me outside and not in the gym all day… I competed in my first marathon in 2018 running the Kansas City Marathon in a brutal 3:24, but quickly after the race found a love for the sport of running like any other. That spring of 2019 I planned to qualify for Boston as I headed up to Eugene, OR to run the Eugene Marathon. I ran 2:58:37, squeaking by the three hour barrier after hitting the wall badly at mile 21. I really do hate that thing….. After that race I felt motivated as ever to compete again and my training took a major turn! This past fall, 2019, I ran the KC Half Marathon running a 1:17:53 . The race was a huge PR, qualifying me for the 2020 New York Marathon, and has truly moved me forward into decreasing my times greatly in only a year and a half of running! For me it's all about the run community. Times are great. Competing well in races are great, but the energetic community is what has truly drawn me to the sport.
Current Running Goals
My Current running goals are to break 1:10 for the KC half this fall and run a sub 15 5k/sub 32 10k at KU relays this coming spring! My ultimate goal was to break 2:30 for the marathon in New York, but that goal has been changed to 2021! I really want to focus on the half marathon/10k distance this upcoming fall, while building my endurance to marathon fitness either for the spring of 2021 or the New York Marathon in fall of 2021. I truly believe that with the consistent progress of training/racing experience I can complete these goals ahead! I have motivated myself to get better each day and the community of runners that I have already met has been extremely influential to my success in running and simply in life. I believe with this type of program/team, I would be able to excel in both my running goals and future plans! The ultimate goal is the trials for the marathon in 2024, which I have fully committed myself to training for. With my determination and passion to grow, I believe I would be a valuable member for this organization.